Are you a QA lead or an engineer who is sick of routine testing and lack of proper case management? Tracking tasks while inputting the bugs into the outdated test management tools or doing it all in the Google Sheets is tiring. The help is here. Let's take a close look at the top software management & automation testing tools to improve your QA performance, optimize the testing process and make your work life easy.
Software testing management tools
The considerable majority of modern tools now are pretty easy to learn: software engineering ones are not an exception. Unfortunately, there is no single tool to make all the testing processes a blessing. But with a smart mix of management and testing services, the QA engineers can get through this maze. Here is the list of these instruments to optimize the testing process and make it easy to manage.
DrivT 
The newbie on the software testing tools market. The guys combined German quality with the clean interface inventing an all-in-one test management solution. The need for optimizing testers' manual work and tracking the team's workload can encourage you to try DrivT.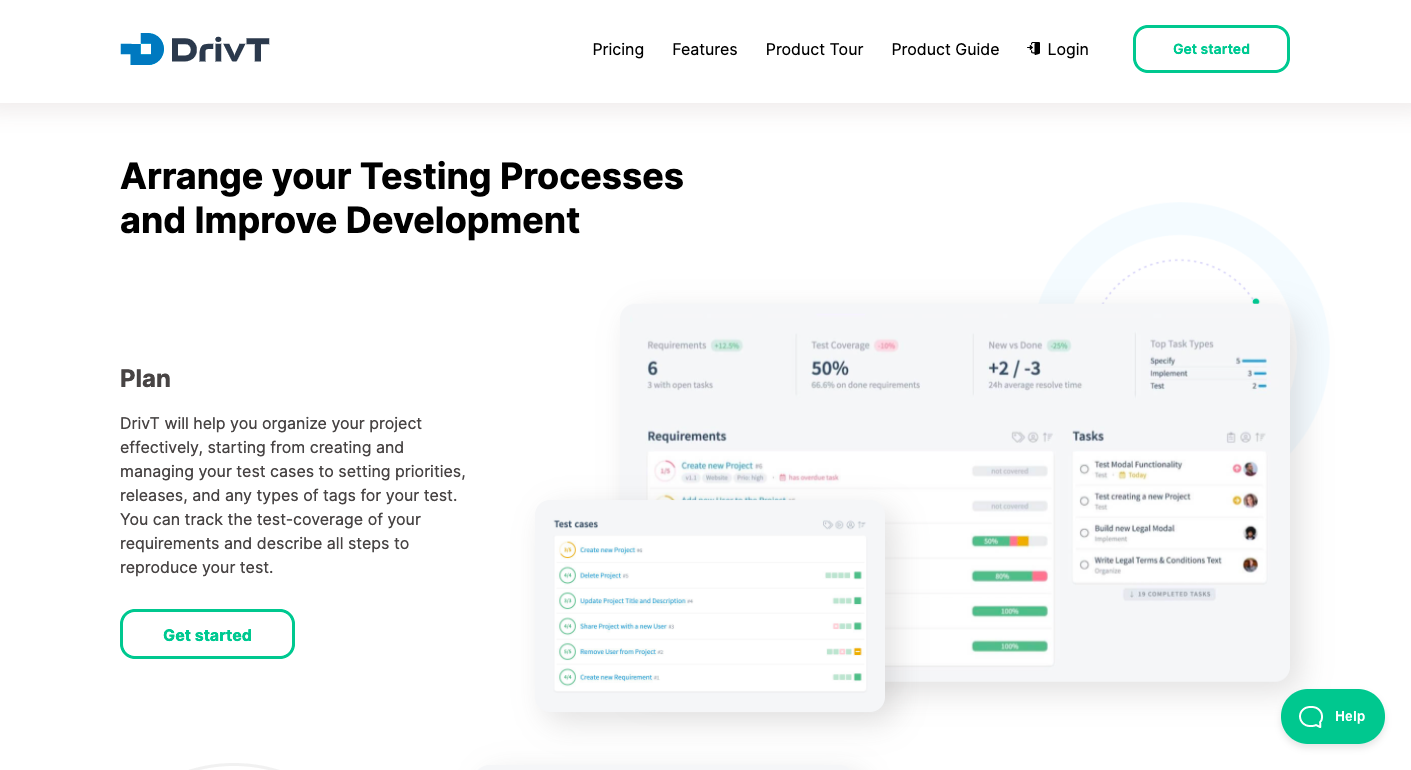 Test optimization in the early stages of development is crucial: choosing DrivT is a pretty excellent alternative to the mature testing tools. DrivT offers a free plan that allows managing 1 project and adding as many people as you want. The tool charges per project, not per user, which means that it doesn't matter if you have fifty people or two on your team. Unlike IBM Rational Functional Tester, DrivT is a reasonable solution for small and medium-sized teams. Let's take a deeper look into the hacks on improving performance with DrivT.
| | |
| --- | --- |
| Pain | Solution |
| No transparency: QA lead skips the performance of their team/ team members cannot track their own performance effectively. | Enhanced dashboard with clear performance tracking allows leads and team members to watch each other's performance. |
| No priority: chaotically placed tickets become a mess, which slows down the work of QA engineers. | Using tags to prioritize tickets sets the tasks in order and makes the work more efficient. |
| Unclear onboarding: onboarding takes a lot of time and effort when using other tools. | DrivT makes onboarding easy and free. You can try it to see whether it's what you need and stay on the forever-free plan if it covers your scope of work. |
What:  test management solution for quality assurance

For who: independent QA, QA team leads, small teams of QA engineers

How much: free plan (you are charged per project in the paid plan)

Advantages: pretty complete package of prominent features in the free plan

Disadvantages: newbie, so there are not many reviews online for such software testing tools 

What do professionals think of DrivT?

"We are a small team of developers and test the software ourselves, so it was important for us to find reasonable solutions. DrivT is nice for managing tests' effectiveness of my comrades and me!"

Nick, Lead software engineer
Qase 
The tool is another test management tool for QA. Qase has clear logic and quite an understandable UI. Test automation is easy and native with it. Another basic feature of this automated testing tool is storing the data right inside of it. You can try testing with Qase as REST API, and the testing results can be synchronized in seconds.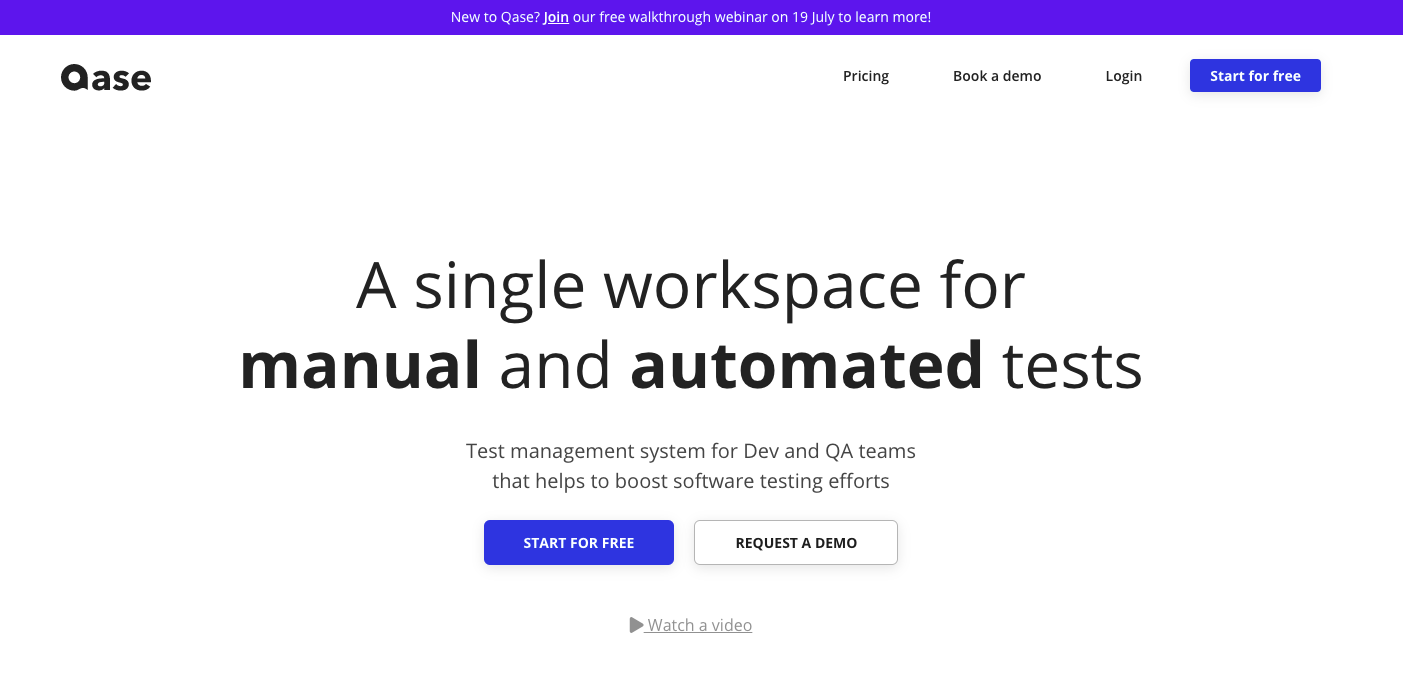 The cross-browser feature allows QA engineers and team leads to perform the functional and integrated testing faster and cheaper. Native workflow is what all the testers look for in the testing tool, and you can find it here.
| | |
| --- | --- |
| Pain | Solution |
| No communication: isolated workspaces that QA engineers use to make it hard to communicate with each other and keep track of the updates. | Slack integration will keep you updated on the last messages from your teammates. |
| No planning: tickets make a mess out of the dashboard and make a QA engineer do more work. | Range tickets based on the priority to plan the working day and enhance the effectiveness of performance. |
| No sharing: QA engineers cannot send a test report to the colleague, which makes them do more work of file duplication. | You can share a detailed report on the test case with anyone in a few clicks. |
What:  test management solution for quality assurance

For who: small and medium-sized QA teams

How much: free plan (you have to pay if the team is up to 3 people)

Advantages: some credited teams work with Qase

Disadvantages: you pay for a number of users & if your team is more than 3 people, it gets pricy

What do professionals think of Qase?

"Good work with a team of developers is crucial for me, and Qase helps us work in sync without any troubles."

Lora, QA engineer
Testrail
Testrail takes its deserved place among testing tools that helps QA teams and developers work in sync. Enterprises usually use Testrail because of its vast functionality. The minus of Testrails is its outdated UI, so small and medium teams are least likely to fall in love with it. Luckily, the functionality is vast enough.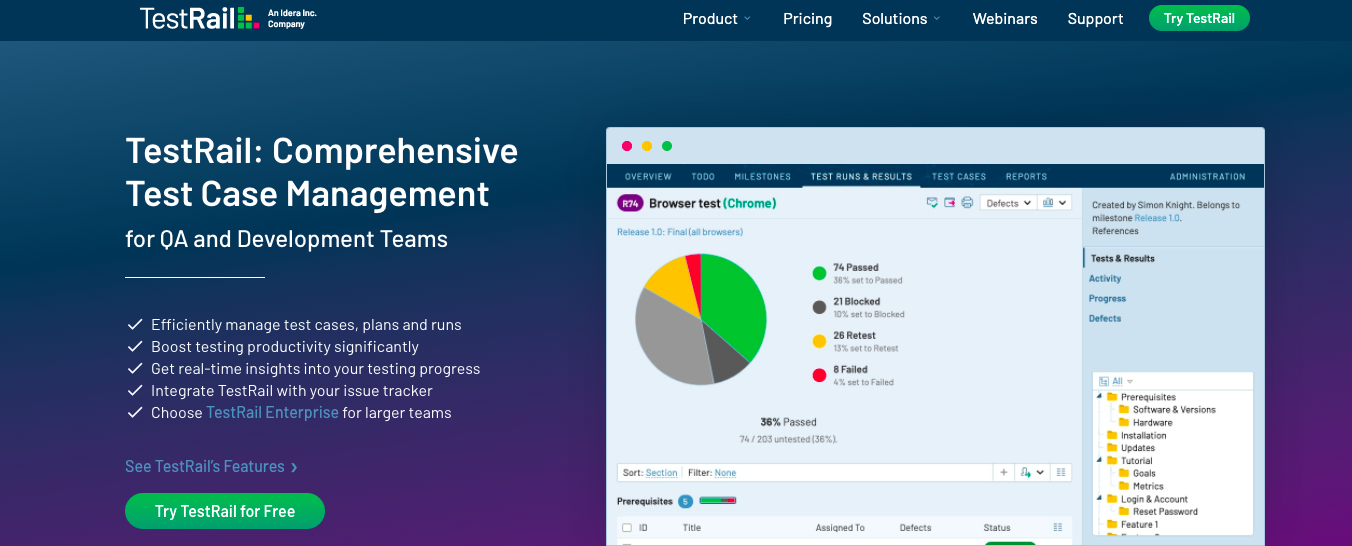 Testrail allows making test plans that can be built according to either the agile scenario or the more traditional approach. The thing about testing with Testrail is that this tool is suitable for medium teams or big ones for two reasons: price and ecosystem. It is too heavily loaded for a start-up financially and functionally. You can pick DrivT as an alternative to Testrail overloaded functionality, though.
| | |
| --- | --- |
| Pain | Solution |
| No data unification: test cases are stored at different places for different projects, so the QA engineer spends more time managing the cases. | All in one place collaborative platform allows QA engineers to switch quickly between projects without losing efficiency. |
| No data control: inability to store data at local servers prevents many companies from using test management systems. | You can store all the data within your own servers to keep total control over it. |
| No effectiveness control: team lead cannot see the latest test changes – cannot control the effectiveness. | The real-time insights feature allows team leads to control the effectiveness of their teammates. |
What: web and mobile test case management tool

For who: medium – enterprise

How much: from $34/ per user

Advantages: can be used with native servers within the testing process

Disadvantages: a pricey tool that doesn't match the increasing demand of QA managers

What do professionals think of Testrail?

"Testrail is an amazing instrument for different kinds of automated testing cases. It is handy to connect our server to the software, so we can fully manage our data."

Katherine, QA team lead
Kualitee
QA is a multi-layer task: plan, write test case, re-test, and Kualitee handles all of these well. Key features of Kualitee are user-friendly UI, understandable dashboards, and custom case management tools. Load testing is something to work on with this tool. There you can create default case descriptions, and there is no need to repeat web and mobile case bugs all the time.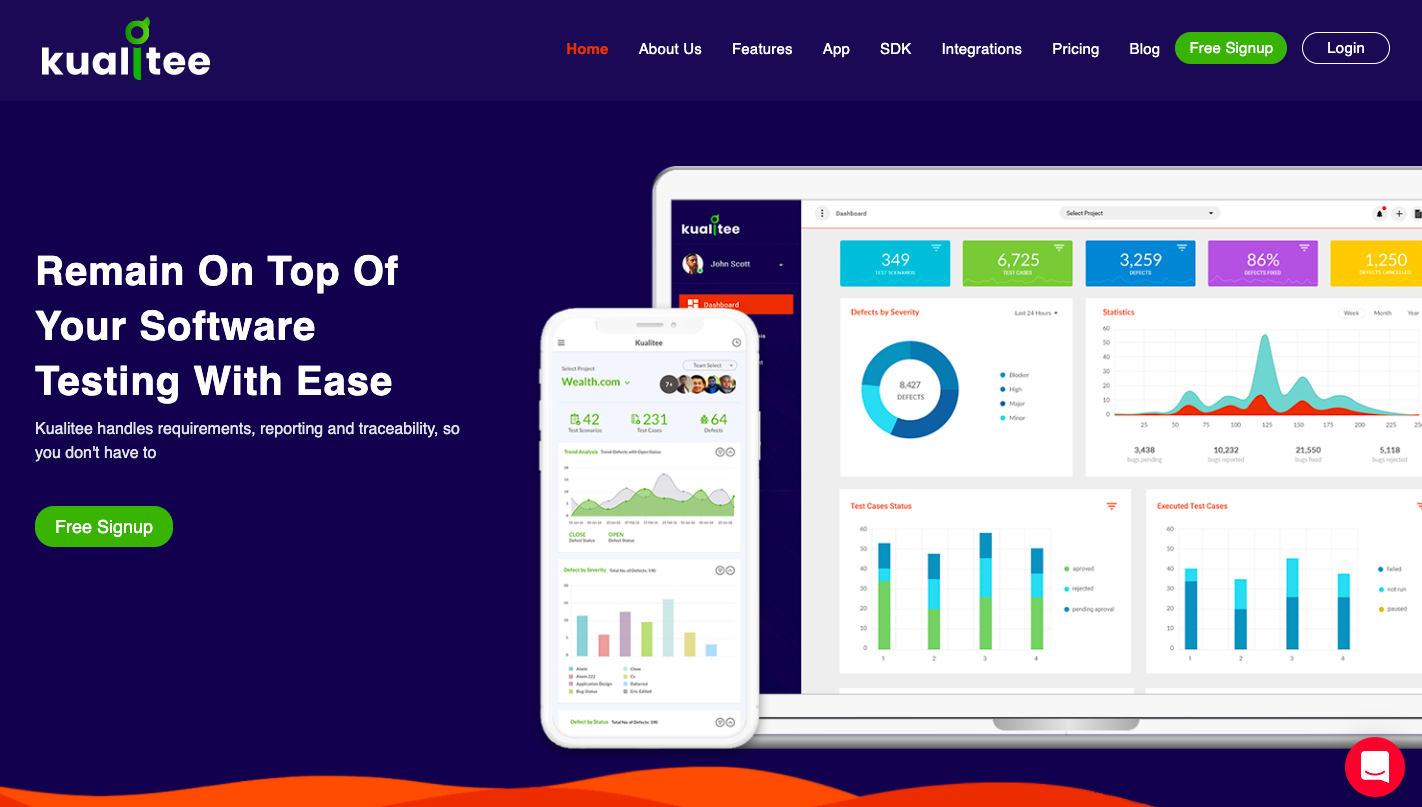 | | |
| --- | --- |
| Pain | Solution |
| No priority: tracking data from different projects can be hard. | Dynamic dashboards help the testers track their performance in each project effectively. |
| No automation: writing reports manually takes a lot of time and energy, leaving less of it for creative tasks. | Automate reports & set them as the default report structure to save time and get rid of the manual work. |
| No updates: switching from one gadget to the other, QA engineers can miss important updates. | Turn on email notifications & push notifications to be updated on time on any of your gadgets. |
What: cross-platform test management tool for teams & QA engineers

For who: small-medium

How much: starts from $15/per month

Advantages: user-friendly UI and great for cross browser testing

Disadvantages: basic software testing tool

What do professionals think of Kualitee?

"I've been looking for a testing solution to help me manage different projects within several teams. Kualitee works out great from this side, and I wish it were more affordable."

Rajiv, QA engineer
Zephyr
People who work with Agile use Zephyr. It is an ecosystem that has three products for now: Squad, Scale, and Enterprise. The QA engineers can choose one or several products to work with. The good news is that they have a free trial version of the tool. Jira works perfectly with Zephyr, and with the cross-project reporting feature, you can be on top of the process.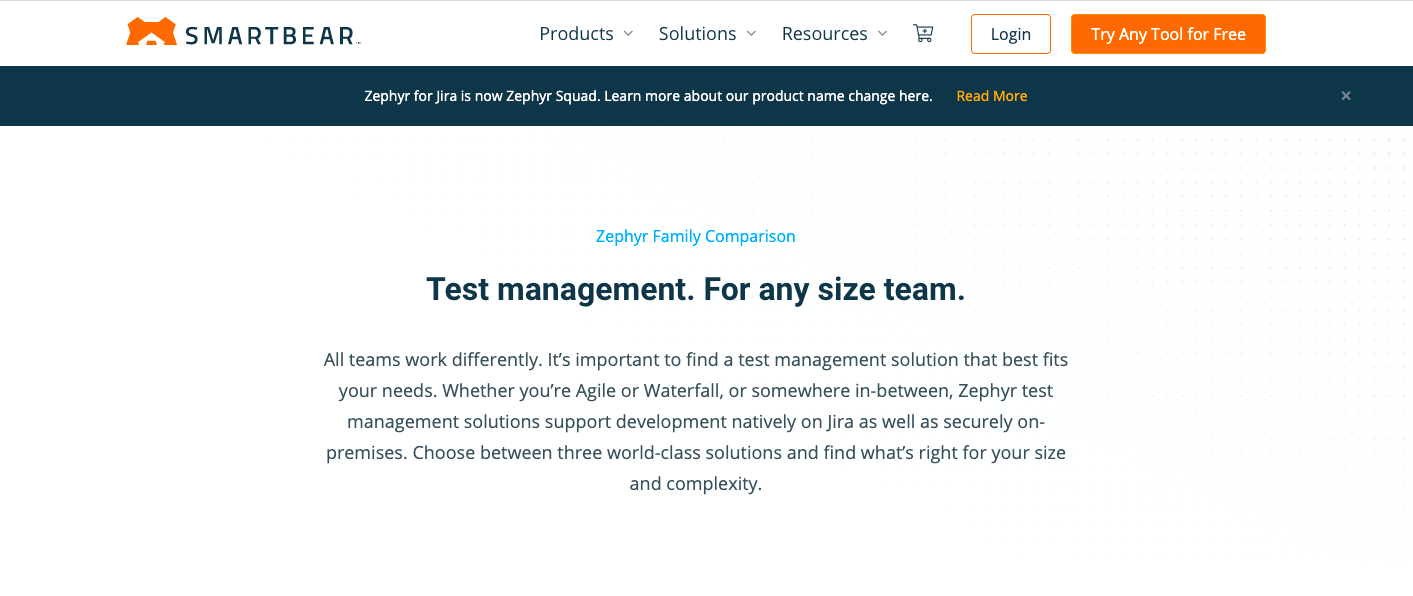 | | |
| --- | --- |
| Pain | Solution |
| No agile: the lack of sync between developers and QA teams makes the workflow less effective. | Agile Testing in Zephyr enables the team of developers and QA engineers to keep up and improve the release results. |
| No automation: testing modules one by one is an exhausting and time-consuming process. | Test in parallel two or more modules to save time.  |
| No unification: multiple dashboards for each QA engineer make it hard to track the success of the overall project. | Try the new testing plugin "Maestro" for DevOps to get the unified data from all your team' departments. |
What: software development test management system

For who: medium-enterprises

How much: starts from $10/ per month

Advantages: easy to use and integrate

Disadvantages: users often complain about repeated errors while using the tool

What do professionals think of Zephyr?

"Pretty basic test management tool. But here, I can make the testing process faster."

Helen, QA engineer
Practitest
Practitest is a comprehensive quality and test management tool. The tool supports manual and automated testing. Testers can manage test cases, structure data, and prepare plans for quality assurance testing here. Practitest makes it easier to work with data loads and test scripts and makes test automation a fruitful process.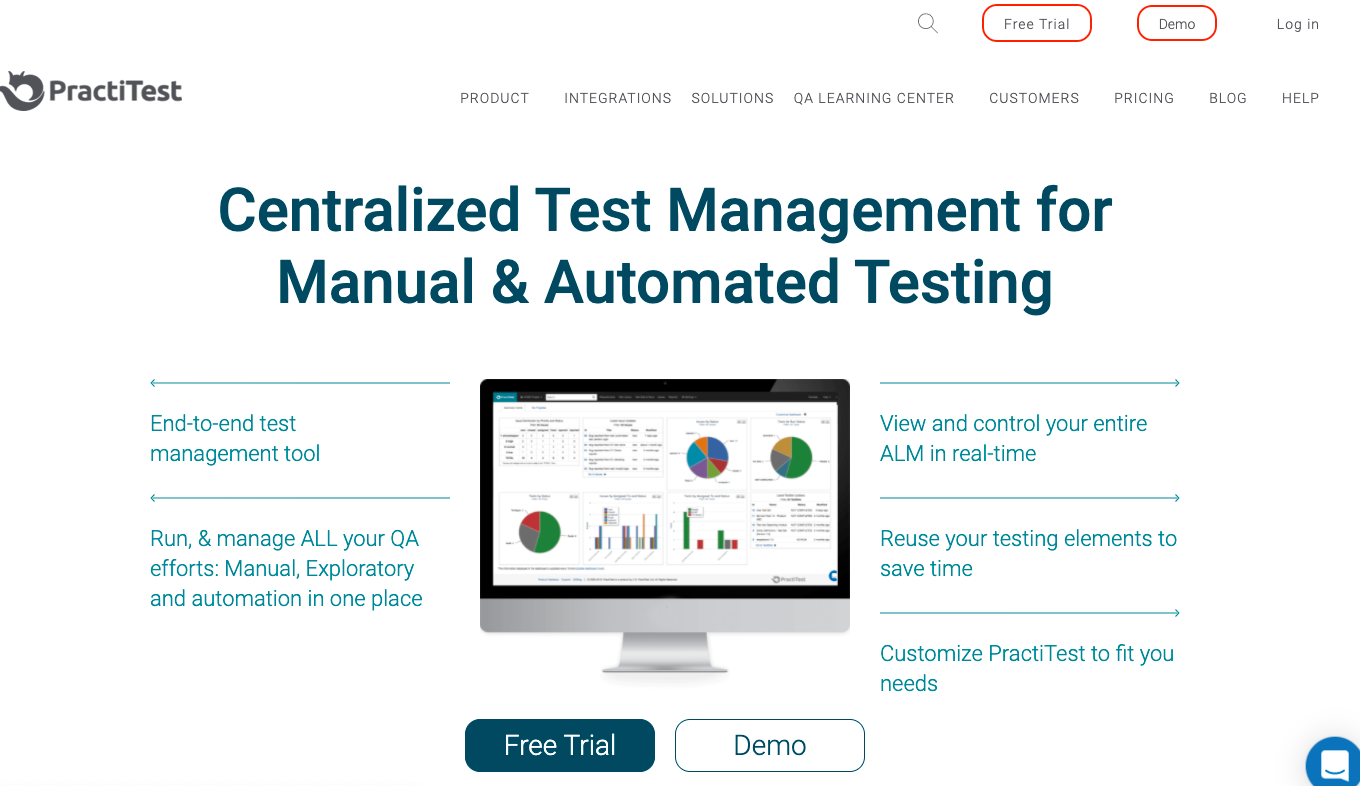 | | |
| --- | --- |
| Pain | Solution |
| No filters: getting lost in the number of tickets is tiring: scrolling down to find one waste lots of time. | Use filters instead of folder trees to quickly find the tickets you need. |
| No users' stories: insufficiency of marketing knowledge leads to the wrong image of the product release. | Users' stories of Practitest help visualize the journey of users to get the best end product. |
What: application testing solution

For who: small-medium teams

How much: starts from $39/per month

Advantages: discounts

Disadvantages: overloaded UI

What do professionals think of Practitest?

"I like that the tools have an understandable interface, unlike the other big tools for the enterprises. It works as expected and makes my work less frustrating with the day-to-day testing work."

Xiao Yun, QA intern
Xqual
Test studio of Xqual is something to pay attention to. It is an automated testing tool that provides services for all level tests. The tool is quite old and lacks a friendly UI. Anyone can perform API testing within the ecosystem of Xqual: from the freshmen in QA to the senior engineer.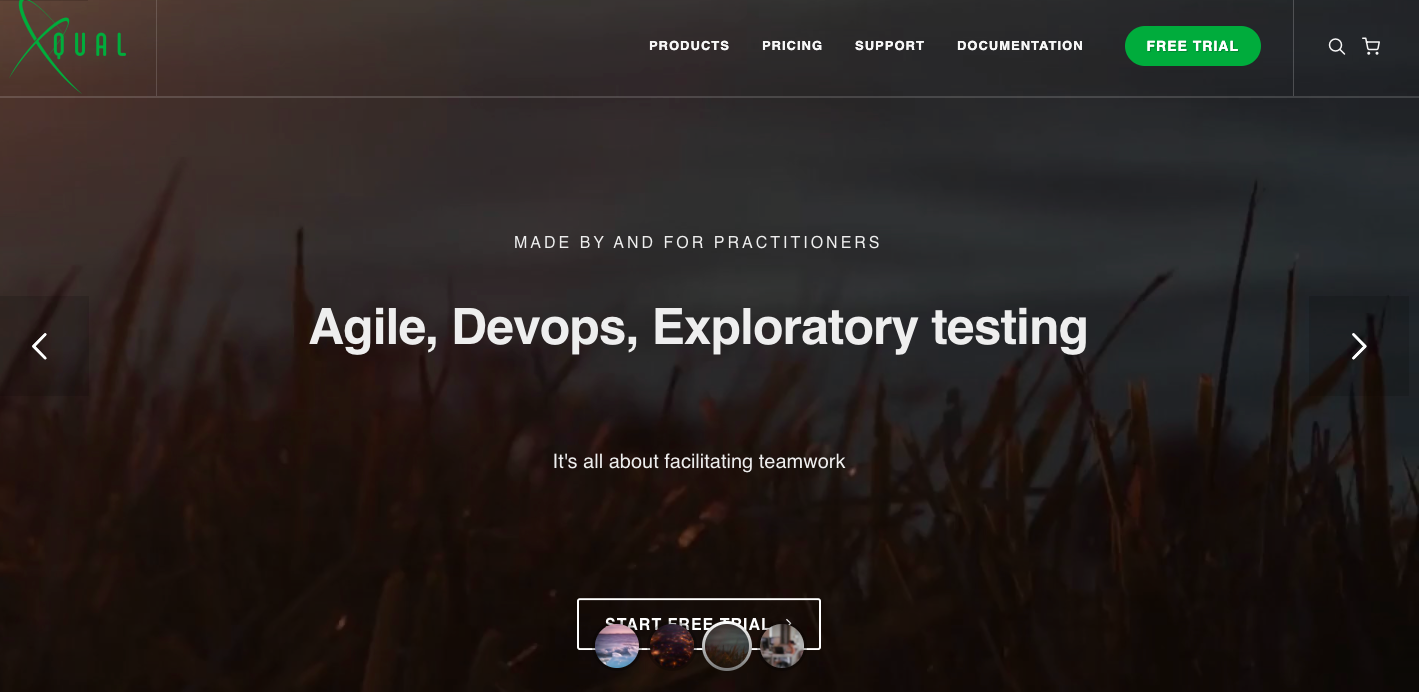 | | |
| --- | --- |
| Pain | Solution |
| No automation:  lots of manual work takes all your time. | Templating automated testing saves your time and the time of your colleagues. |
| No visualization: lack of data visualization leads to low-quality analytics. | Try out Kanban to organize your work and stop losing precious time and data. |
| No consolidation: results of the test campaigns are not scattered, and it's hard to analyze them together. | Merge and consolidate tests results from different campaigns to work effectively. |
What: app life cycle management tool

For who: medium-enterprises

How much: free plan

Advantages: has many helpful testing features

Disadvantages: a pricey solution that suits enterprises mostly

What do professionals think of Xqual?

"Pretty buggy tool: Jira integration goes in one way, which means it doesn't change the XStudio data."

Mark, Software engineer
Software testing automation tools
Besides test management solutions there is software that helps to automate the testing process. Let's take a look at the best software to automate the quality assurance process.
Cucumber
What can help to automate software testing? It's Cucumber! The testing tool supports behavior-driven development (BBD), where the quality rises, and the costs fall. The automation testing tool of 2020 has to be user-friendly, but unfortunately, this solution lacks that. Try out Katalon studio if you are looking for alternatives.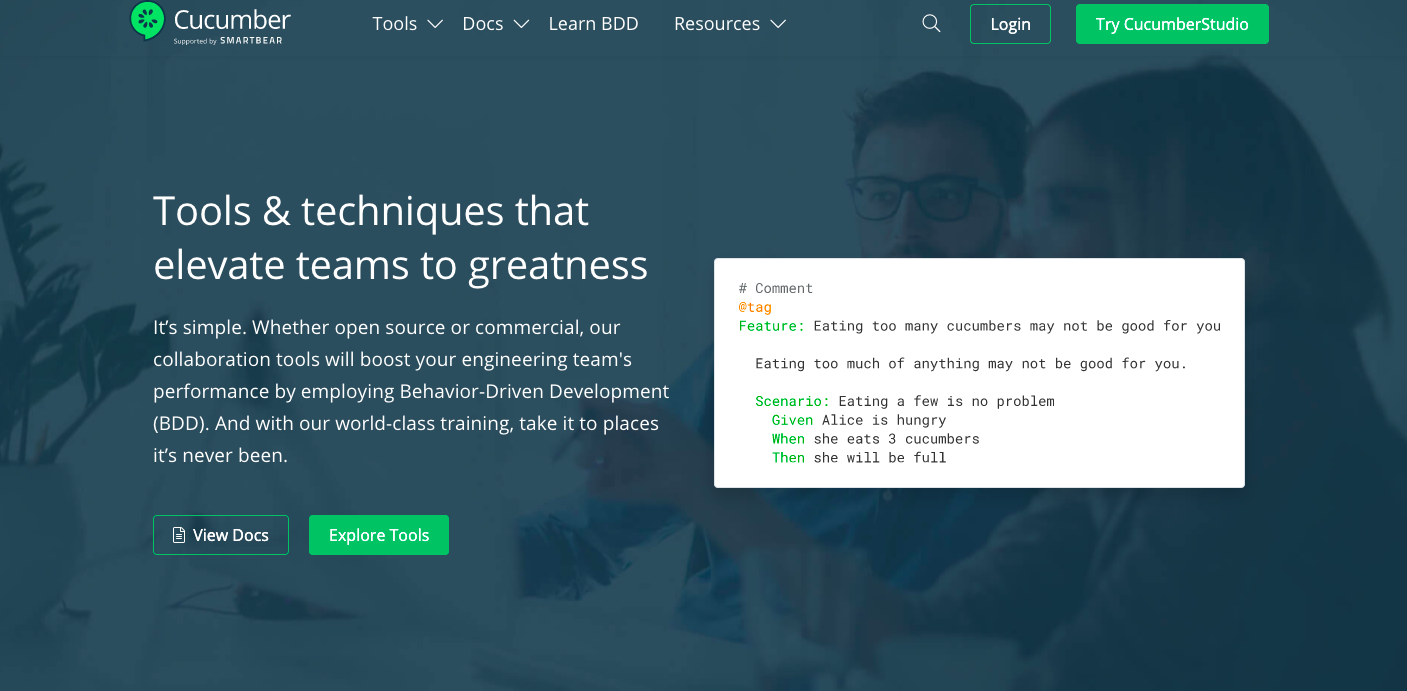 | | |
| --- | --- |
| Pain | Solution |
| No community: lack of specialized forums and places to change experience negatively affects the development of the QA niche. | The Cucumber community is the place to exchange ideas and bring a new perspective on quality assurance. |
| No communication: not being able to see what the colleagues work on can be frustrating and have a negative influence on the final release. | Create living testing documentation in Jira to collaborate effectively, share docs and watch the work of your colleagues. |
| No education: there is little information on QA best practices, so a small number of engineers get really updated on the technologies and management in QA. | Cucumber Data Studio provides an excessive amount of educational materials to help QA engineers with testing & management. |
What: a testing framework for BBD & team collaboration

For who: medium – enterprise

How much: €19.12/ per month

Advantages: excellent for BBD and cross browser testing

Disadvantages: narrow list of testing tools available

What do professionals think of Cucumber?

"We had a big gap between the developers and QA team; the tool helped us to be on the same page with other teams thanks to the test automation and Cucumber."

Hanz, QA testing lead
Selenium
Selenium, an old-school web application testing tool that takes its deserved place among the best testing tools. Since 2004 the service has been helping agile teams work perfectly together, enhancing the performance of QA engineers worldwide.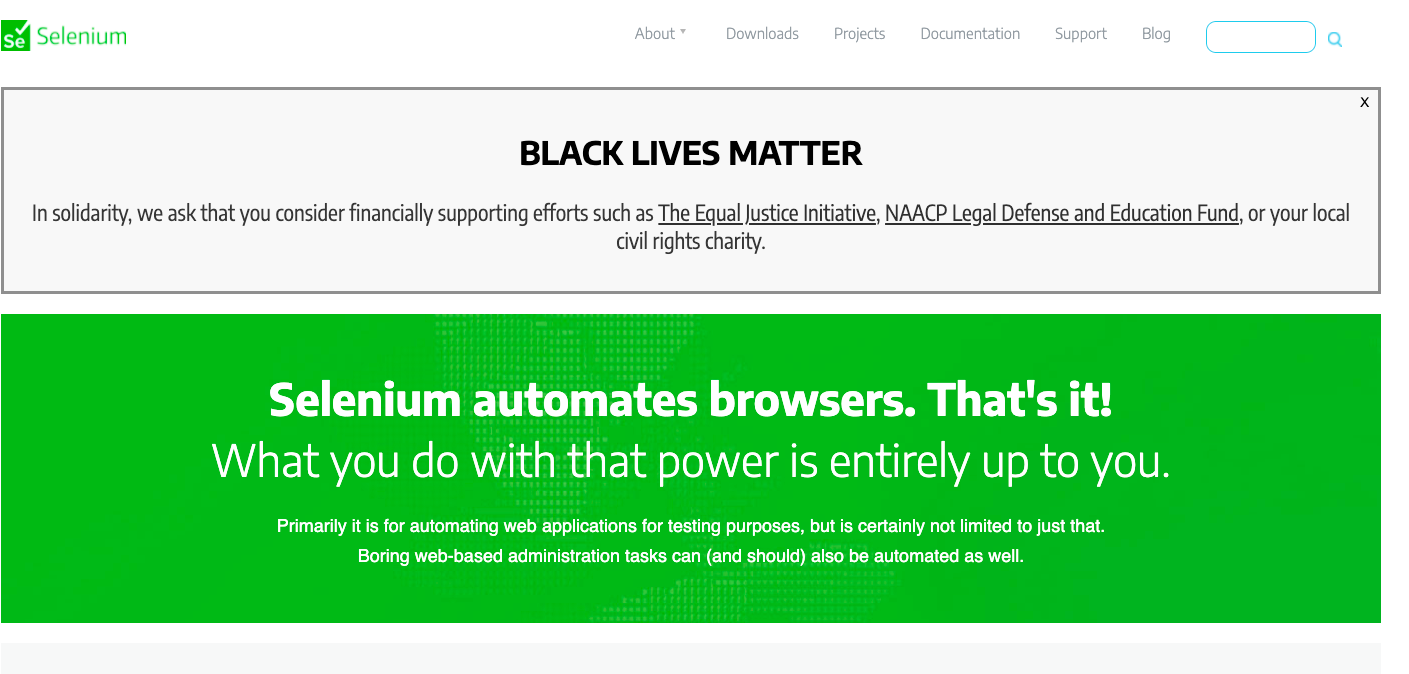 Selenium automates interface testing and makes the tedious process faster. It can save plenty of time for other fun work. 
| | |
| --- | --- |
| Pain | Solution |
| No transparency: many QA tools are licensed and have no free plan. | Open-source Selenium is affordable for any QA engineer. |
| No automation: need to write all the scripts by hand and launch them one by one steals the time of the QA engineer. | Launch multiple testing scripts with the same parameters to save your time. |
| No multi-language tools: need to switch from one language to another while testing. It makes the process less comfortable and time-consuming. | Use different languages to perform the tests with Selenium. |
What: tool for web application testing

For who: small-medium teams

How much: free

Advantages: wide-known automated test tool

Disadvantages: poor usability and no up-to-date features

What do professionals think of Selenium?

"Selenium eases monotonous testing work. I am grateful for the number of languages that work within Selenium."

Miklos, QA team lead
Qmerty
Qmerty is a reasonable solution for the teams who work with DevOps constructs by Agile. The tool has a test automation platform, test quality studio, and automation studio. It provides a smooth guide on onboarding a QA team to Qmerty. Cross browser testing is also available in the Qmerty tool. This test automation platform easily integrates with the most favorable Jira and gets you the best ROI with the help of modern features.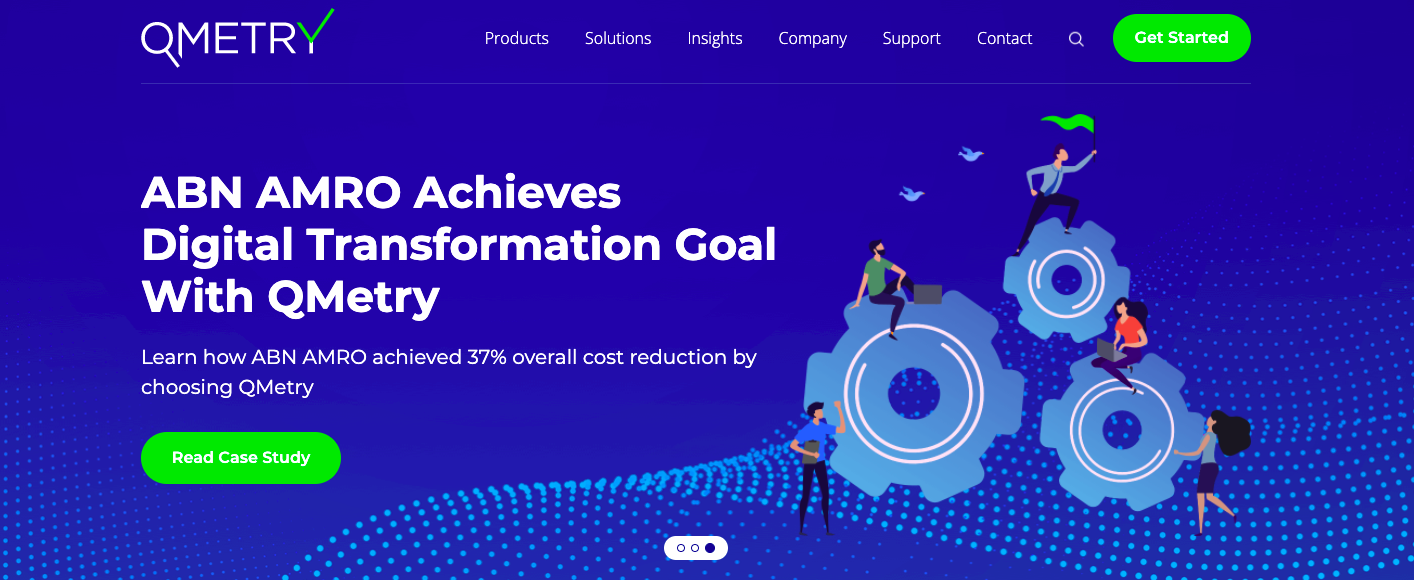 | | |
| --- | --- |
| Pain | Solution |
| No categorization: data is not organized properly, which leads to time losses. | Use the tags for the test tickets to organize and prioritize the projects and tests. |
| No customization: basic dashboards may confuse and be uncomfortable for the QA engineers.  | The framework can be customized for the needs of a tester and make the process more effective. |
| No automation: no playback makes QA engineers do all the manual work: the process is tiring. | Web recording and playback to convert testing sequences to automation scripts. |
What:  test management tool for agile teams

For who: small-medium teams

How much: starts from $25/ per month

Advantages: flexible TMS with many cool features

Disadvantages: newbies can get lost in the amount of the features & pricey solution

What do professionals think of Qmerty?

"The dashboard of the automation tool needs a lot of improvement. But, I like how it integrates with Jira. Just that, yeah."

Chloe, QA team lead
A little bit more thoughts on testing tools
Choosing a free testing tool or license is your right, but picking up the most suitable one is your responsibility in front of your team or yourself. When preferring one instrument to another, think of:
what features you might need;

how long you have to use the tool;

the budget you have for the tool.
And remember that there is no universal decision on the testing tool for anyone, so bump your head over the new challenges, testing tools and try to make a difference from all of it!